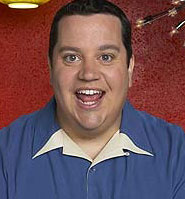 Paul C. Vogt
(born December 16,
1964
) was a castmember from
Season 8
-
Season 10
.
In many sketches, Vogt was used as an overweight character (since Vogt is obese in reality).
One notable sketch was of an obese middle-aged woman named Cindy Delmont, who was often subtly or blatantly treated in belittling fashion by men in managerial and/or executive positions.
Vogt has a twin brother named Peter Vogt.
Ad blocker interference detected!
Wikia is a free-to-use site that makes money from advertising. We have a modified experience for viewers using ad blockers

Wikia is not accessible if you've made further modifications. Remove the custom ad blocker rule(s) and the page will load as expected.